Cut the ice on the UK's only split-level Ice Rink.  With family and evening skating sessions, there's always lots of fun on the ice.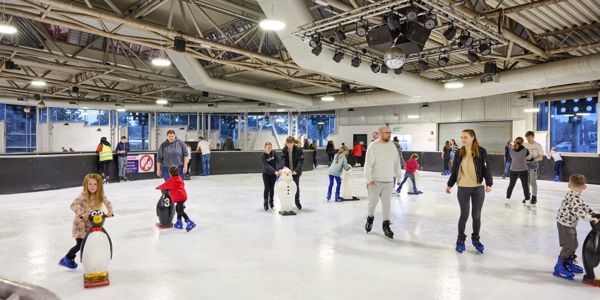 Ice Skating Information
Book your tickets for the IceCaps the coolest place in the city.
Keep cool and cut the ice at the IceCaps. Ice skating has never been safer and more fun for the family.
Our ice rink is the only split-level ice rink in the UK offering families a unique skating experience.
Skating with Young Ones?
The little ones could enjoy the perfect ice experience using one of our double-bladed skates to give them more stability on the ice.

We also have an army of Penguins & Snowmen skating aids ready to help your little ones on the ice. Just remember to add it to your online booking during checkout.
Spectators
You're welcome to stay on the sidelines and watch. Spectator tickets are just £3.00 and include a hot drink from our Ice Cafe.
This activity requires you to complete a waiver before taking part. Details can be viewed here. Once you complete your sale the waiver will be sent via email.
Wheelchair accessible session
These accessible sessions are perfect for anyone with a disability or impairment who'd like to get on the ice. 
Wheelchair accessible sessions 10am every weekend and weekdays during school holidays, 2pm and 4pm sessions during term time only.
All Wheelchair users must be Hand Pushed around the Top Rink Only
All Wheelchairs Must be non-Electrical and Batteries Must be fully Disconnected
All Wheelchair Handlers Must be in Ice skates when on the Ice Rink
All Wheelchairs require Handles to be Pushed around the top rink
All Wheelchair Handlers must be over the age of 17
All Wheelchair Users and Handlers Must be in complete control of the Wheelchair at all times
All Wheelchair Handlers Must Remain with the wheelchair user at all times