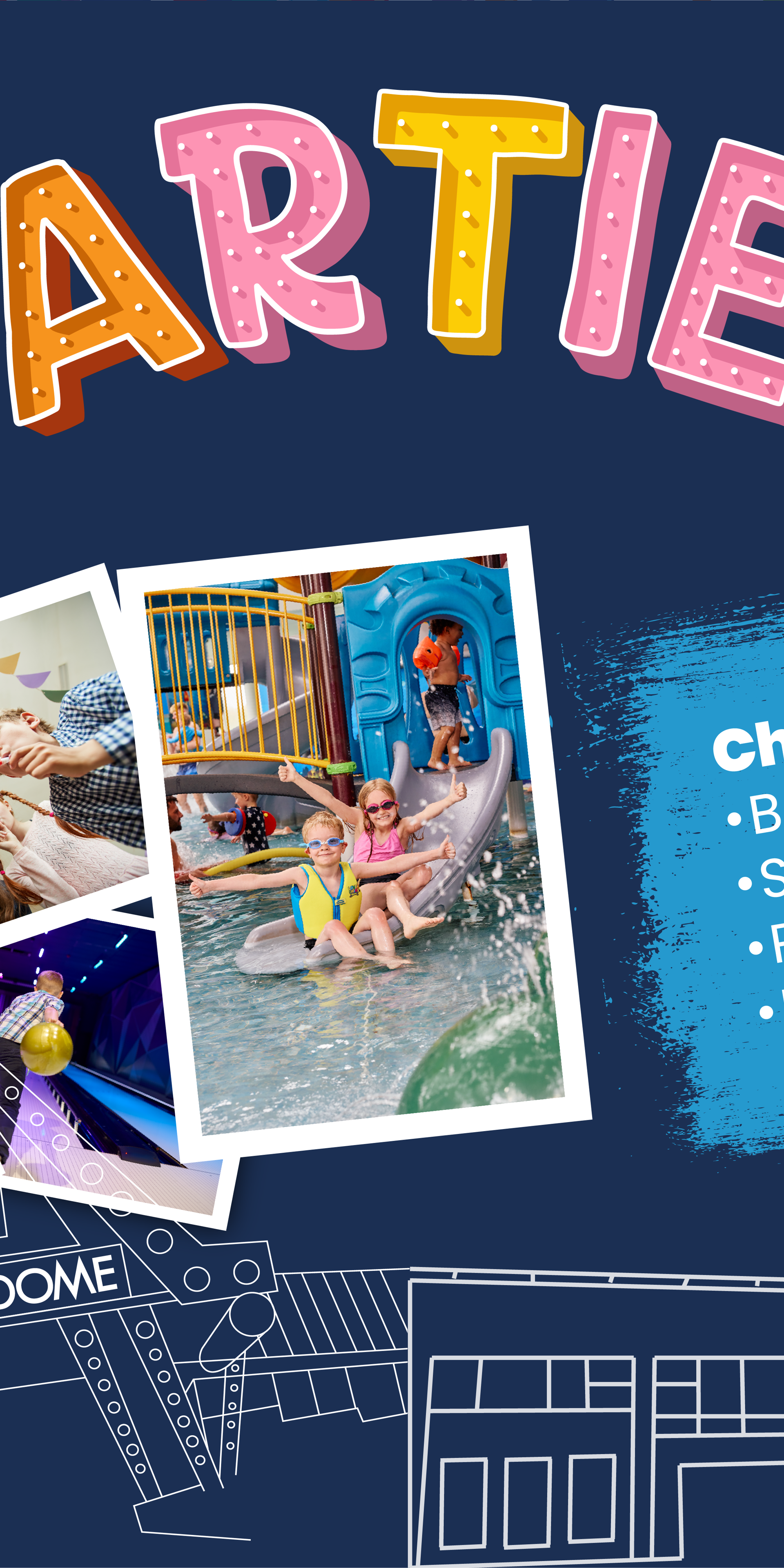 Birthday parties at DCLT
From making a big splash, to gliding on the ice and bowling, there's something for everyone
Relax, we've got it covered!
Your child and their friends can take part in their favourite fun-packed activity, before enjoying great-tasting food in our dedicated Party Zone.
All birthday party packages include an hour of your chosen activity, delicious hot food, unlimited soft drinks (squash) and to top it all a FREE return visit voucher for the birthday child.
Birthday parties terms & conditions
Booking terms and conditions
General conditions
All parties must be paid for in full at the time of booking
Parties consist of one hour of activity and one hour in the party room/zone
Parents/guardians are responsible for children at all times and must stay in the centre/area for the duration of the party
It is the parent/guardian's responsibility to ensure that all children are physically able/competent to participate in the chosen activity
Party organiser to inform us of any allergies, dietary requirements, or health concerns at least 7 days prior to the party to ensure we can accommodate the requirements
We reserve the right to cancel any booking which we have confirmed to you caused by events beyond our reasonable control. Upon which you will be offered an alternative date or a refund on your booking
Free return voucher for birthday child will be issued on the return of the birthday party survey - which will be emailed after the party
Cancellation policy
A full refund is given for cancellations made two weeks before the party date
A refund of 50% is given for cancellations made 14 to 7 days before the party date
A refund of 25% will be given for cancellations made 7 days or less before the party date
Include waiver on website / with a tick box
I confirm I have read the birthday party terms and conditions and agree to abide by them (above information and party-specific information as below)
Big Swim
Standard swimming ratios apply. Children under 4 must be accompanied on a 1 to 1 ratio and children aged 4-7 years must be supervised on a 2 to 1 ratio
1-1 basis for all non-swimmers under 8
Supervising adults in the water will pay the standard entrance fee
Any party bookings without the required adult supervision in the pool will not be allowed to go ahead
Ice Caps
For children 8 years+
Adult supervision is required for children under 8 years – 1 adult to 8 children
Children must be supervised by an adult from the viewing area for the duration of the party
Adults will be charged the standard fee for accompanying children on the ice
Skate hire is included in the cost of the party
Additional charges apply to the hire of skating aids. Special discount price available for aids pre-booked
Participating in ice skating carries an inherent risk, any participation is totally at the user's own risk. Anyone with any medical conditions, serious previous injuries, recently broken bones, knee or joint problems or mobility problems should carefully consider whether it is safe for them to participate
Playzone
For toddlers and children up to the age of 10
No food or drink is to be consumed within the play area
Supervising parents/guardians must remain in the area throughout
Bowling
Recommended for children age 4+
Bowling time is for one game only
Supervising parents/guardians must remain in the area throughout
Aqua Park
For ages 10+ and a minimum height of 122cm
Children must be able to swim 25 meters unaided to participate in either activity
Children must be fit/able to pull themselves out of the water unaided
Wetsuit hire is included in the price
Parents/guardians are responsible for children at all times and must stay in the Aqua Park for the duration of the party
Participants are required to arrive 30 minutes prior to their session time for a safety briefing/wetsuit fitting
On occasion, severe weather may cause the closure of the Aqua Park for which we will offer a full refund or endeavour to offer an alternative date
The Dome
What time should I arrive for my party?

Please arrive 10/15 minutes before the party starts time

Where should I come to my party?

For Big Splash parties please come to the swimming pool entrance
For Ice Caps parties please come to the ice skating entrance
For Playzone please come to Playzone entrance

Are lockers provided?

For swimming, lockers are available in the changing rooms which require a £1 coin which is refundable
For ice skating, lockers are available which require a £1 coin which is refundable

Can I take photos in the Dome?

We do not currently allow photography in the Dome

Can I bring my own decorations for the party area?

The party area will already be decorated

Can I bring along my own music to be played at the party?

Music is already played throughout the Dome, with a mix of different tunes

Can I bring candles for my birthday cake?

We are happy for you to bring standard candles to light on your cake, we cannot allow novelty or sparkler candles

Do I need to provide a knife to cut and napkins to wrap my birthday cake?

We will happily cut your cake and provide napkins to wrap your cake, or you can choose to bring your own napkins

Can I bring along extra food to the party?

No, only food purchased at the Dome can be eaten. Please do let us know if you have any food allergies or requirements at the time of booking

Can I bring along my own soft drinks?

No, only drinks purchased at the Dome. Please do let us know if you have any food allergies or requirements at the time of booking
Adwick Leisure Centre
What time should I arrive for my party?

Please arrive 10/15 minutes before the party start time

Where should I come to my party?

Please come in through the main entrance and book in at the bar

Can I take photos at the party?

Photos can be taken in the private party room only

Can I bring my own decorations for the party room?

Yes, you can bring your own decorations, which can be put up with removable blu-tac or similar products

Can I bring along my own music to be played at the party?

Yes, we have an in-built system which you can plug in your iPhone or android phone

Can I bring candles for my birthday cake?

We are happy for you to bring standard candles to light on your cake, we cannot allow novelty or sparkler candles

Do I need to provide a knife to cut and napkins to wrap my birthday cake?

We will happily cut your cake and provide napkins to wrap your cake, or you can choose to bring your own

Can I bring along extra food to the party?

No, only food purchased at the venue can be eaten. Please do let us know if you have any food allergies or requirements at the time of booking

Can I bring along my own soft drinks?

No, only drinks purchased at the venue. Please do let us know if you have any food allergies or requirements at the time of booking